Hydro Tech Inc. is proud to announce the acquisition of North American PTFE Bearing LLC as of March 6th, 2017.
HYDRO TECH INC., a North American leader in the supply of bearing expertise and generator/turbine mechanical rehabilitation services to the hydro industry, announces that it has acquired NORTH AMERICAN PTFE BEARING, LLC (NAPTFE) from U.S. owner Kjell Nyqvist. Ownership of the company transferred to Hydro Tech Inc. effective March 6, 2017.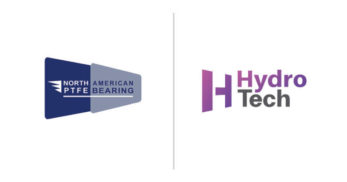 With the acquisition of NAPTFE, Hydro Tech has signed an exclusive North American agency agreement with Russian company, EnEnergo, a 40-plus year manufacturer of PTFE bearing pads. Hydro Tech is headquartered in Sault Ste. Marie, Ontario, Canada, with a second location in Portland, Maine readily providing services throughout Canada and the United States. Hydro Tech is a proud member of the Russell Group of Companies (Russell Industries Corp.) which offers a full range of project and maintenance services from coast to coast.
This acquisition enables Hydro Tech to provide expedited design and supply of PTFE bearings, while continuing to offer its current and future clients a varied choice of bearing materials: babbitt, bronze, Lignum Vitae, and Zincaloy. Bearing services offered by Hydro Tech include, but are not limited to: upgrades; rehabilitation; new designs; bearing studies; thrust bearing spring optimizations; field services; re-babbitting; oil-to-water conversions; and water-to-oil conversions.
In announcing the acquisition agreement, Mr. Mike Dupuis, President of Hydro Tech Inc, commented: "Hydro Tech is excited to be North America's exclusive supplier of EnEnergo's PTFE bearing pads. We have worked closely with NAPTFE and EnEnergo for many years, and this was a natural addition to Hydro Tech's bearing design and supply service."
Established in 2001, Hydro Tech has a strong reputation for providing reliable and innovative engineering and contract services to the hydroelectric industry.
For more information, please contact:
Mike Dupuis – President at HydroTech Inc.
Email: mike.dupuis@hydrotech-inc.ca
Phone: 705-946-3182 x31
Hydro Tech Inc.
65 Industrial Court B
Sault Ste. Marie, ON P6B 5Z9