Hydro Tech Inc. is proud to make the following announcement
Hydro Tech Inc. and the Volta River Authority of Ghana, Africa, have successfully completed six thrust bearing installations at the Akosombo Generating Station in Ghana.
Akosombo is a 6 x 170 Mega-Watt (1020 MW total) generating station that has been experiencing recurring thrust bearing damages which required frequent repairs, and in some severe cases caused bearing failure necessitating replacement of the Babbitt bearing pads. The bearing failures were attributed to turbine runner upgrades which had increased the loading on the thrust bearings. Under the increased loading, original thrust bearings were slowly deteriorating to eventual failure. Several attempts were made by the OEM to correct this problem by modifying various parts of the thrust bearing with only partial, temporary success followed by eventual bearing failure.
After approaching various sources in their pursuit for a reliable and permanent solution, the Volta River Authority contracted with Hydro Tech Inc. to formulate a solution. Hydro Tech developed and supplied a new bearing with the support of EnEnergo of Russia which designed the PTFE bearing pads.
Bearing Design
The thrust bearing has eighteen spring supported PTFE bearing pads. The bearing pads consist of a PTFE surface with a steel backing plate supported by a bed of precision manufactured thrust springs. The thrust runner plate is divided into four segments, which are supported by a thrust block and held in place with radial keys and eight vertical bolts holding the runner plate securely to the thrust block. The runner plate segments are tightly bolted and keyed together, then machined to provide a solid, smooth and polished running surface. The new bearing design has reduced the operating temperature (to ambient) by approximately 25% to 30%, and increased thrust load capacity by more than 70%. The new thrust bearing supports 1132 imperial tons of thrust load.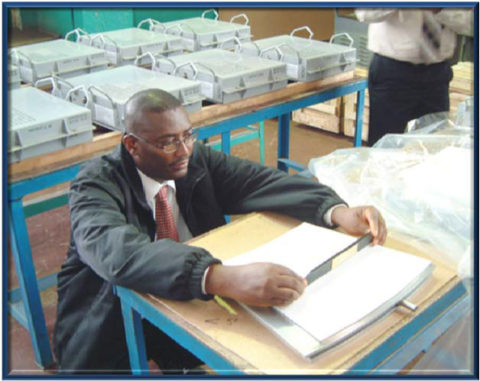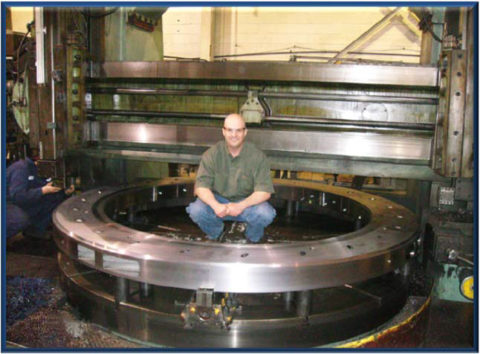 Special Acknowledgements
Horst Mielke of Hatch Energy (Canada) for facilitating the project, supporting contract negotiations, as well as other support he provided from the time of the initial contract negotiations which began in late 2005 through to completion.
Kjell Nyqvist of North American PTFE (USA) for supplying and supporting the purchase of the six sets of PTFE bearing pads.
John Sanderson and the crew at Canadian Babbitt Bearings Inc. (Canada) for the precise and accurate machining of the 112.5 inch diameter thrust bearing runner plates.
We would also like to thank the entire crew and staff at Akosombo GS who installed the bearings with absolute dedication and care.